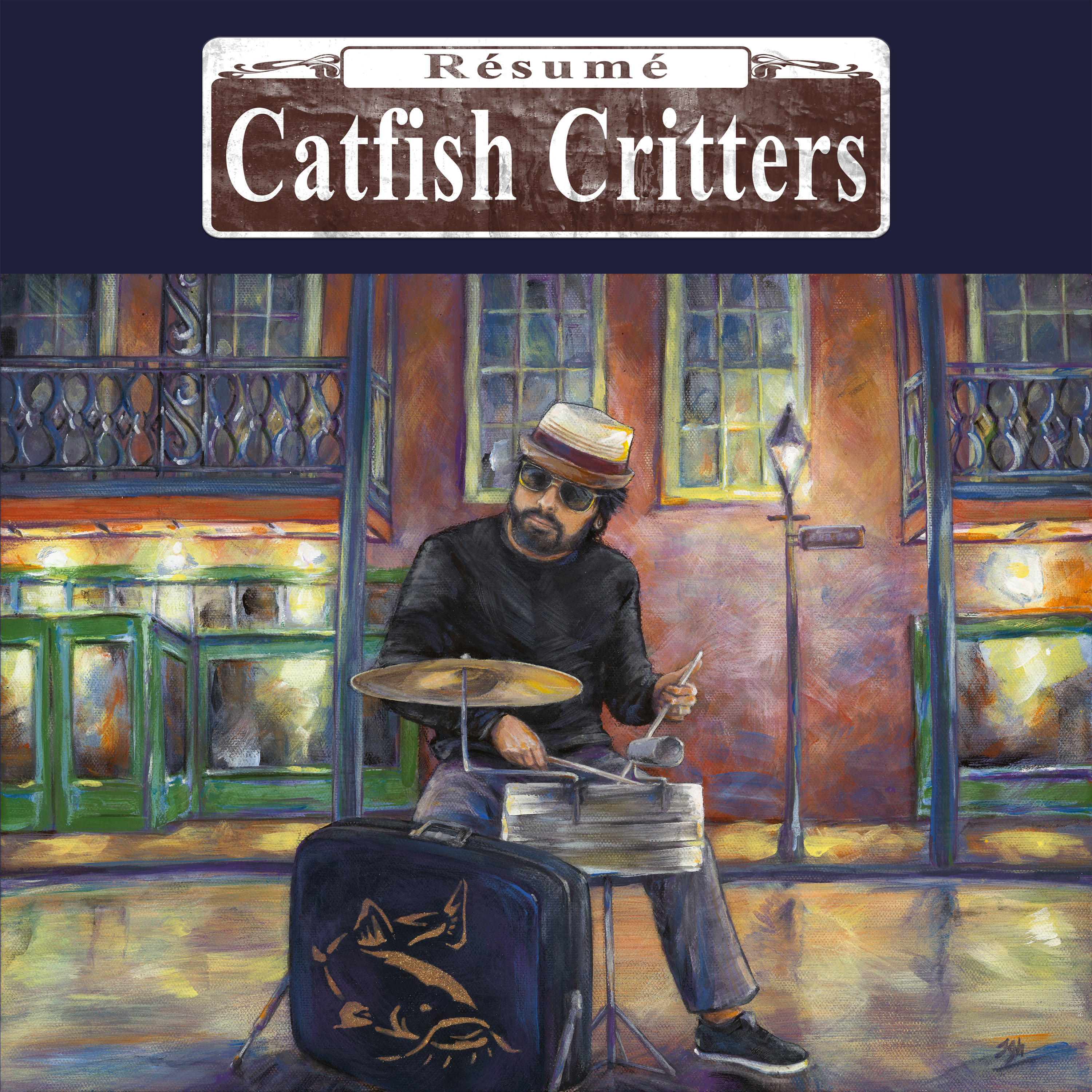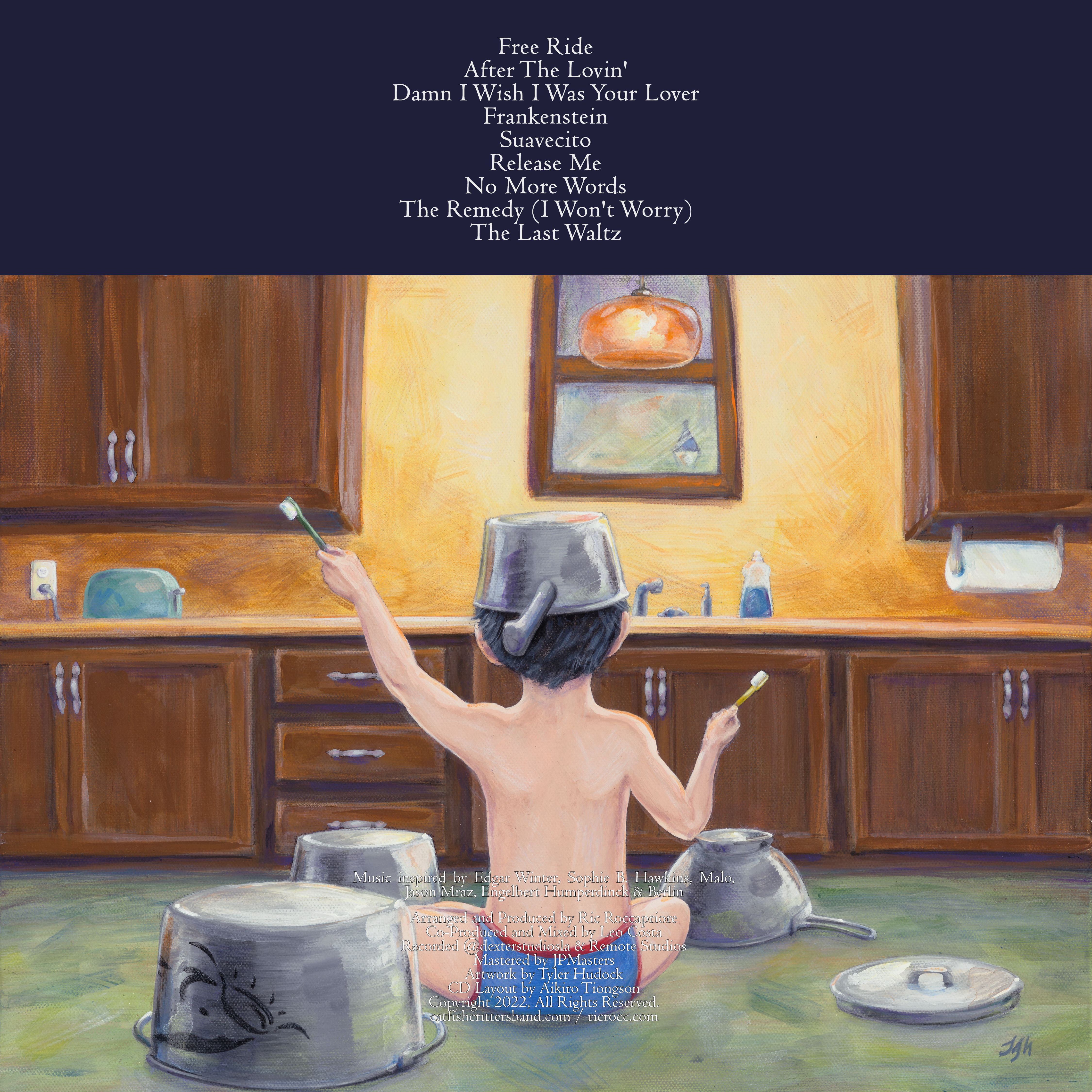 Welcome to my first album called Résumé recorded by my new band, Catfish Critters. 
Let me start by saying thank you for supporting my project.  Résumé is a tribute to the artists that I have been fortunate to work with throughout my career as well as a tribute to the amazing music of New Orleans.  You will hear hit songs arranged within the many different styles from this great area. 
For those of you that are not familiar with N'awlins music, I hope this album will teach you that it's not about perfection or amazing singing.  It's loose and often times called greasy, vibe-e and perhaps most of all, a party!  It's meant to make you move, laugh & smile and make a stink face!  So grab your favorite drink,  kick off your shoes, take a deep breath and allow yourself to just let go and have a good time! 
Special Thanks: 
This album is dedicate to my amazing wife, Jeanne for her support and words of wisdom that have helped me achieve the goals I made for myself back in high school.  I can't thank you enough. 
Secondly,  I'd like to thank all the talented musicians on and off of this album for helping me grow and keep growing not only as a drummer but as an artist. 
Thank you Leo Costa for taking this journey with me and making this the best album it can be.  Tyler Hudock (July 6, 1985-August 23rd, 2022), for the amazing art work on this album.  You captured exactly what I was envisioning and more. 
My Roccapriore and DeVoll family.  We have been through way too much over the last couple of years.  You have helped me more than you will ever know. 
Last but not least, the fans.  Because of you this music and art will live on forever. 
In memory of Dr. Richard Roccapriore (June 7, 1929 - April 28 2022). Thank you for all the life lessons and for allowing me to be me.  I think about you every day and miss you but I know you are up there with either a Martini or Yellow Bird partying to my tunes with the rest of the family. 
Side A 
Free Ride 
Ric Roccapriore - Lead & Background Vocals, Drums & Percussion 
Billy "Bushwalla" Galewood - Lead Vocals 
Robin Everhart - Bass 
Kris Hawkins - Guitar 
Andrew Doolittle - Guitar 
Alex Navarro - Keys 
Scheila Gonzalez - Sax 
After The Lovin' 
Rachel Rattner- Vocals 
Nori Naraoka - Bass 
Ric Roccapriore - Drums & Percussion 
Jeff Marshall - Guitar 
John Gros - Keys 
Corey Gemme - Trumpet, Trombone & Clarinet 
Damn I Wish I Was Your Lover 
Darius Holbert - Lead & Background Vocals, Keys & Arrangement 
Chris Ellis - Bass 
Ric Roccapriore - Drums, Percussion & Background Vocals 
Anders Mouridsen - Guitar 
Anthony King - Guitar 
Barbara Laronga - Trumpet 
Lori Stuntz - Trombone 
Scheila Gonzalez - Sax 
Alex Budman - Sax & Horn Arrangement 
Frankenstein 
Ric Roccapriore - Vocals, Drums & Percussion 
Derek Frank - Bass 
Randy Gloss - Percussion 
Matt Rohde - Keys & Arrangement 
Anders Mouridsen - Guitar 
Anthony King - Guitar 
Side B 
Suavecito 
Ric Roccapriore - Drums & Vocals 
Anders Mouridsen - Banjo 
Corey Gemme - Trumpet, Trombone, Tuba & Clarinet 
Ben Morris - Background Vocals 
Release Me 
Barbara Laronga - Vocals 
Ric Roccapriore - Drums, Percussion & Vocals 
David Arana - Whistler 
Adam Cohen- Bass 
John Gros - Keys 
Johann Frank - Guitar 
Corey Gemme - Trumpet, Trombone & Clarinet 
No More Words 
Ric Roccapriore - Drums, Percussion & Lead and Background Vocals 
Adam Cohen- Bass 
Jesse Berent - Guitar 
Dave Schultz - Keys 
Barbara Laronga - Trumpet 
Lori Stuntz - Trombone 
Scheila Gonzalez - Sax 
Ben Morris - Background Vocals 
Remedy (I Won't Worry)
Carol Hatchett - Vocals 
Ric Roccapriore - Drums, Percussion & Back Ground Vocals 
Barbara Laronga - Trumpet & Horn Arrangement 
Lori Stuntz - Trombone 
Lance Keller - Trombone 
Scheila Gonzalez - Sax 
Riley Baker - Tuba 
The Last Waltz 
Scott Bennett - Vocals 
Anders Mouridsen - Guitar 
Ric Roccapriore - Suitcase