Dexter Studios LA
Equipped with Pro Tools, Logic and a Tascam Vintage tape machine.  Clients will receive 3 takes of professional drumming for a very reasonable cost.  The studio is also equipped with two isolation booths for live rhythm section tracking and overdubs.  Check out the samples on the music player below.

Dexter Studio was built in 2011 by:
Hand Craft Industries' Marijan Rajcic
719-930-1904
marijan07@yahoo.com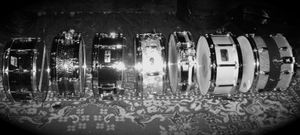 If you are interested in recording live drums, replacing loops or are not happy with a previous drum take, Dexter Studio is for you.

Here's how it works:
Step 1.
Email MP3 or Chart and the studio form at the end of this page.

Step 2.
Agree on a price.

Step 3.
Submit a 50% deposit to begin your session (using Zelle, Venmo, Paypal, check or cash).

Step 4.
An MP3 bounced mix will be sent to you to approve the session.

Step 5.
Receive final takes when final payment is received. The session will be delivered via internet, DVD or uploaded to your external hard drive..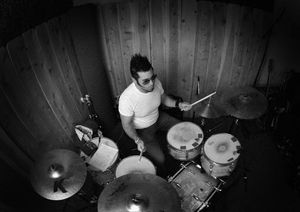 Drum Sets:
1967/1968 - Ludwig Blk D. Toms 13 & 16, BD 22 
1969 - Ludwig Standards Astro Toms 12 & 14, BD 20 
1984- Pearl MX (Maple) Toms - 8X10, 9X12, 9X13,
10X14, 16X16 w/legs, BD 16X22 
2006 - Gretsch Catalina Club Jazz (Mahogany), Toms -8X12, 14X14 w/legs, BD 14X18
Ludwig 14 1/2 X 27 3/4 Vintage BD (1920's)
Slingerland 9 X 28 Concert BD
Snare Drums:
Ludwig Black Beauty 70's  5 X 14
Ludwig Acrolite 70's 5 X 14
Ludwig Acrolite 70's 6.5 X 14 
Ludwig Supraphonic 60's 5 X 14 
Ludwig Supraphonic 70's 6.5 X 14 
Drum Paradise Hand Hammered Brass 5 1/4 X 14 
Yamaha Recording Custom Maple 5 X 14 
Slingerland Wood Vintage 5 X 14 
Pearl Piccolo Brass 3.5 X 14 
Custom Mahogany Wood 5 X 14
Percussion: 
Djembe, Cajon, Bongos, Conga, Shakers, Claves, Cabasa, Rain sticks, Cowbells, Jam Blocks, etc... 
Cymbals: 
22" Vintage Zildjian A Ride  
20" Vintage Zildjian A Ride  
20" Vintage Zildjian Sizzle Ride  
18" Vintage Zildjian A Crash  
16" Vintage Zildjian A Crash  
14" Vintage Zildjian A Hi-Hats  
14" Zildjian K Hi-Hats  
13" Zildjian New Beat Hi-Hats  
8", 10" & 12" Zildjian Splashes  
20" TRX Alt Ride  
16" TRX Icon Crash  
12" TRX Icon Splash  
18" TRX Icon China
16" HH Sabian Thin Crash
16" HH Sabian Thin Crash
14" HH Sabian Thin Crash
17" Sabian AAX Crash  
18" Sabian Crash
20" Paiste 3000 Ride
22" Gong 
16" Istanbul Agop Xist Crash
20" Istanbul Agop Xist Crash
16" Zildjian/Paiste (Crash Cymbal) Hi Hats