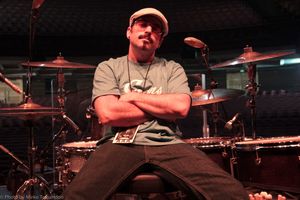 Bio 2020
Artists:
Berlin
Engelbert Humperdinck
Sophie B. Hawkins 
Edgar Winter                                                                             
MALO (Latin Rock Legends)
Even*Rude (Tony Hawk Pro Skater) 
BC Jean 
Alison Sudol (A Fine Frenzy) 
Carmen Rasmusen (American Idol)
Totsy
Also worked with:
Jason Mraz
Seal                                                                                   
Cowboy Troy (Big & Rich)
El Chicano (Latin Rock Legends)
Elan Atias (The Wailers)
Tours:
Berlin 2021, Engelbert Humperdinck World Tour 2015-present, Abi Ann opening for Jesse McCartney- In Technicolor Tour, Totsy opening for Brian Setzer Orchestra, Engelbert Humperdinck 2011, Sophie B. Hawkins 2004-2010, Even*Rude X-Games-Gravity Games-Slam City Jam Fest and Slim Jim's Rebell-iache tour, The Big Exposition, MA, Summer Fest, WI.
Producers:
Jim Scott
Mark Needham
Richard Perry
Michael Patterson
Tone
RichE
Michael James
Chuck Reid
Randy Cash
Ahmet Zappa
TV Appearances: 
PBS Engelbert Humperdinck live in Hawaii 2018
Seal
ESPN
ESPN2 
Jenny Jones 
Fearless TV 
Fox News 
The Other Half 
Board Wild on the Surf Channel 
Blue Torch on Fox Sports 
Tim Hicks music video, "Hell Raising Good Time" 
Tim Hicks music video, "Buzz, Buzz, Buzzing"
Music in Films: 
Sex Sent Me To The ER- Jam sessions episode
Butterfly Effect starring Ashton Kutcher and Amy Smart - "When Animals Attack" 
The Job featuring Daryl Hannah, Brad Renfro, and Dominique Swain - "PIMP" featured in opening scene. 
Gravity Games Summer Two Thrills and Spills video 
Extreme Freestyle Moto-X Challenge.
Video Games: 
Tony Hawk Pro Skater video game - "Vilified".
(Sold over two million copies).
Music Library: 
Megatrax - Drum Line Tracks 1 & 2
Endorsements: 
Vic Firth Drum Sticks
Evans Drum Heads / D'Addario
Ultimate Ears
Education: 
Berklee College of Music (Boston, MA) 
The Drummers Collective (NYC)
Recordeo (Online Recording Engineer School)